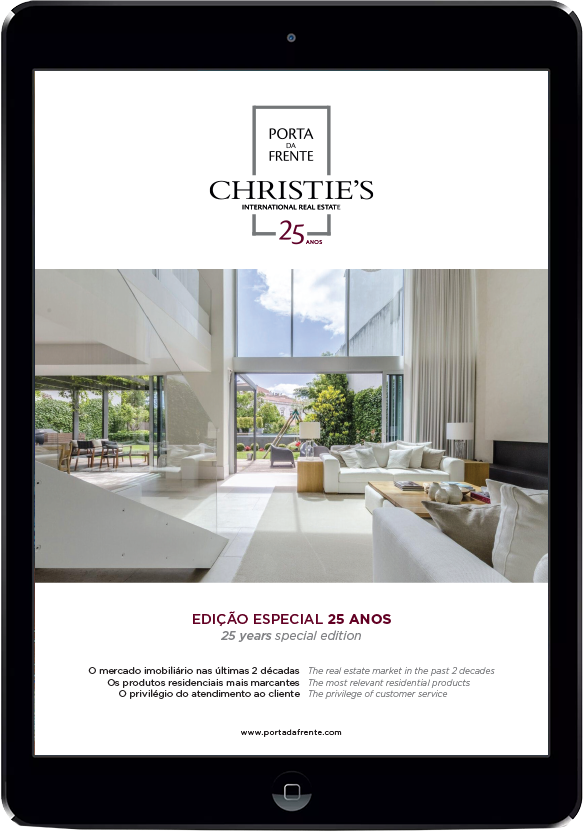 25th Anniversary Special Edition
This is an issue full of surprises, with exclusive articles about the history and activity of Porta da Frente Christie's, as well as important moments in the Portuguese real estate market from recent decades to the present day.
Access exclusive articles of a story that is also yours
25 years of stories to tell

The privilege of customer service

Christie's International Real Estate: a prestigious and exclusive affiliation

Lisbon, Oeiras and Cascais: an adventure with 25 years

Two decades with the best real estate partners
Avenida da Liberdade: the prestige and refinement with portuguese signature

Frederico Valssassina: 35 years of architecture of excellence

Oeiras: where the sea and modernity merge with the future on the horizon

House Living: the most exclusive property management service on the market

Unique developments and properties

Porta da Frente Christie's is a real estate brokerage firm working in the market for two decades, focusing on the best properties and developments, whether for sale or lease. The company was selected by the prestigious Christie's International Real Estate brand to represent Portugal in the areas of Lisbon, Cascais, Oeiras and Alentejo. The main mission of the Porta da Frente Christie's is privileging a service of excellence to all our customers.
Porta da Frente – Soc. de Mediação Imobiliária, Lda. AMI: 6335 – 14/02/2005 – Read our data protection policy